New Providence, NJ — July 25, 2022 — Anova today announced that Matthew "Matt" Toone has been appointed CEO. An experienced and entrepreneurial business leader, Matt succeeded Chet Reshamwala and assumed responsibilities as of July 18th.
As founding CEO, Chet has led Anova over the past five years to global leadership in remote asset monitoring. After six acquisitions, significant software and product innovation, and the build-out of a deeply experienced global team, Chet is leaving Anova.
"Chet has been a tireless customer advocate, innovator, and an inclusive, principled leader of Anova. We are grateful for the enormous impact he has had on this company and for his leadership through extraordinary times. He leaves Anova well-positioned to extend its leadership position," said Martin Carter, Anova Chairman.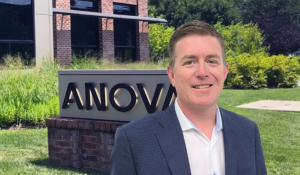 Matt Toone is a highly entrepreneurial, motivational leader with deep experience in industrial technology markets and product development.
"With a proven track record of market and team development, Matt joins us at an exciting time in Anova's journey. Having worked with Matt before, I am convinced that his clear and entrepreneurial approach will accelerate the realization of Anova's potential," said Martin Carter.
"I am thrilled to have the opportunity to lead this unique business. Having followed the impressive progress of Anova and Chet over several years, I look forward to building on the company's success and extending our industry-leading offering," said Matt Toone.
Matt was previously the CEO of Bacharach, a leader in gas analysis which was acquired by MSA, Inc. in 2021. Prior, Matt spent 11 years with Emerson, Inc. in a variety of progressive leadership roles, including leading Cooper Atkins, Vilter manufacturing and Sales and Solutions for the group's Cold Chain platform.
Matt has a BS in Computer Science from Indiana State University.
About Anova:
Anova is connecting the industrial world for better by digitalizing the supply chains of the manufacturers and distributors of LPG/Propane, industrial gases, chemicals, fuels, lubricants, and other products. Through innovation in remote telemetry analytics and technology, including tank levels, pressures and temperatures, and predictive maintenance of related industrial equipment, Anova has enabled new levels of operational insight, efficiency, and consumer experience. Anova cloud-native solutions are used in over 80 countries around the world, providing insight on a million industrial assets, and support in 12 languages. The company's 2,000+ clients run the gamut from small, regional businesses to the world's largest LPG/Propane, industrial gases, and chemicals manufacturers and distributors. Anova is the only globally deployed company in the remote telemetry space, reflecting its long-earned trust and reliability, the breadth of asset type monitoring solutions, and its universal communication network and satellite communications support. For more information, visit https://www.anova.com.
Media Contact:
Bridget Piraino
Anova
O: +1 908.373.5678
bridget.piraino@anova.com