Fast lube service shops are under increasing pressure to manage their businesses more effectively and maintain car counts.  Due to the proliferation of viscosity grades, extended oil drains, and competitive dealership service programs that reward return visits, fast lubes are constantly looking for a way to gain a competitive edge amid these challenging market conditions.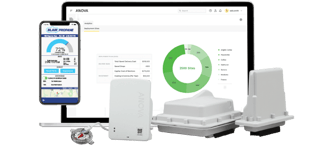 TNT Express Lube is a 2-location fast lube in Buffalo, NY, that serviced over 15,000 cars in 2019. They have been fortunate to partner with some great vendors, including Deckman Oil, and have experienced steady growth for the past 5 years. Deckman Oil sets themselves apart from the competition and provides TNT Express Lube with a "lubricant experienced" sales force, dedicated product and technical support, and a focus on providing the right product at the right time for the right application.  
Anova's Products Tackle Efficiency and Reliability Needs
Deckman Oil uses xFluid, a web-based tank data management platform to improve bulk lubricant delivery efficiency. Deckman Oil offered TNT Express the xFluid tank monitor solution and MyTankApp, a customized mobile application for end-user tank inventory and usage visibility, as an additional feature to enhance the overall customer service experience.                                                
Managers at TNT Express use MyTankApp to review the daily bulk lubricant readings from each tank. The owner of TNT Express can cross–reference the xFluid readings with the software they use at the counter to ensure accuracy of billing and inventory.  
Enabling Businesses to Work From Anywhere at Anytime
Greg Varisco, owner of TNT Express, explained their success from being an end-user of Anova's products. "The xFluid tank monitors and MyTankApp have proven to be great tools in holding my store managers accountable and gives me confidence that the right products are being used and billed correctly. An unforeseen benefit in having the MyTankApp was that during the COVID-19 pandemic, I was able to work with my supplier and manage fills based on the info I had in the palm of my hand, I didn't have to go to each location or approximate levels, it was right there on my phone.
"Although the intent of this technology was to track and manage inventory, I often find myself looking at the long term data that the app provides such as the average daily usage, graphs and charts to visually see trends and look back at purchase/fill history. All of these capabilities have helped me to really dial in on how each store is doing and gives me confidence that inventory is accurate." 
Happy End-User Customers Drive High Retention
Pete Deckman, President of Deckman Oil, described how they have benefited from being a distributor with Anova's technology. "From the Distributor standpoint, having these monitors at TNT has been an advantage for larger fills, less frequent stops, and overall increase in productivity/profitability. But these are the obvious benefits that most distributors experience.
"What I am most thrilled about is how happy my customer is with the app! Using these tank monitors, I was able to provide a solution to a problem for a great customer and further solidify our relationship. This has been a total win-win for both my customer and my company. Since starting with TNT, we now have over 20 customers with tank monitors and found that this can be a huge added–value to both current and potential customers." 
Easy. Reliable. Worth It. 
The xFluid tank data management platform from Anova lowered operational costs for both the distributor and the end business user of the products. Deckman Oil is optimizing their efficiency with precise scheduling and larger deliveries. TNT Express manages their fast lube stores more effectively with new visibility into daily usage, trend analysis, and fill events.
Both businesses are operating more efficiently with near-real time tank level data and analytics and have built a more engaged and connected relationship through the MyTankApp mobile application.